March 15, 2017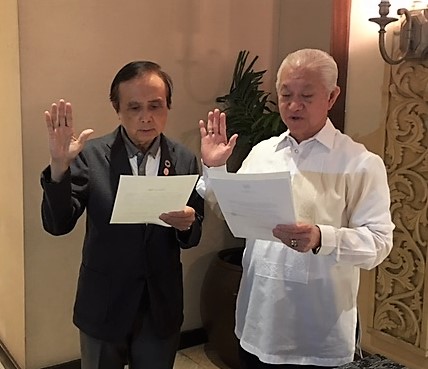 Batangas Governor Hermilando I. Mandanas was appointed as the Chairperson of Region IV-A (CALABARZON) Regional Development Council (RDC) by President Rodrigo R. Duterte last March 8, 2017.
This is the second time the Batangas local chief executive was handed the reins of RDC – CALABARZON as Mandanas chaired the said council from 1995 to 2004, when he was first elected as Batangas governor.
The CALABARZON Regional Development Council, as part of its reorganization, endorsed to the Office of the President, thru the NEDA Central Office, the nominees for RDC Chairperson and Co-Chairperson namely: Gov. Mandanas and Gov. Jesus Crispin C. Remulla of Cavite from the public sector, Mr. Richard Albert I. Osmond of the Philippine Industrial Estate Assn., Inc. and Engr. Ladislao L. Andal of Philippine Institute of Civil Engineers – Batangas Chapter from the private sector.
Gov. Mandanas took his Oath of Office before Socioeconomic Planning Secretary and NEDA Director General Ernesto del Mar Pernia at the Manila Hotel, Manila last March 15, 2017.
The RDC is the highest planning and policy-making body in the region. It serves as the counterpart of the National Economic and Development Authority (NEDA) Board at the sub-national level. It is the primary institution that coordinates and sets the direction of all economic and social development efforts in the region. It also serves as a forum where local efforts can be related and integrated with regional and national development activities.
A key member of President Duterte's investment team during presidential state visits, Gov. Mandanas works for the development of basic infrastructures and services in the province, such as the food terminal, port expansion in Batangas City and the along the Batangas coastline, train service revival from Batangas City to Calamba City and the commercial operation of Fernando Airbase in Lipa City, among others. With these in place, investments would flow that would create jobs for Batangueños and residents of CALABARZON. Vince Altar / Batangas Capitol PIO